Talent Assessment
Every person has strengths, and LHH helps identify them for everyone's benefit
LHH's leadership and talent assessments identify clear attributes that reveals the opportunity in every person, at every level of the organisation.
With a full-range, best-in-class portfolio of psychometric, multi-rate and team assessments, as well as work simulations and organisational surveys, LHH delivers talent insights contextualised to your company and your unique culture. Our research-based leadership models can be adapted to your individuals and company, and delivered in person or virtually.
Contact LHH today >
aKumen assessment programme

Leadership assessment benefits
aKumen is LHH's proprietary assessment approach. Capability, motivation, and focus are the three key elements to leadership effectiveness and these mark the foundation of our approach to senior leadership assessment. It identifies a senior leader's key strengths and weaknesses and uncovers potential areas of risk. These insights reveal where development would be most useful, and what can be done to help leaders develop the skills required to manage teams and drive business success.
aKumen looks at:
Capability – this assesses aspects of effective leadership
Motivation – this offers insights into what motivates a leader
Focus – this assesses decision-making and logic
We also use an assessment solution, aKuity, to reveal insights into an employee's personality and mindset and how this may play out in the workplace environment, and Orion to assess leadership potential.
Reporting is a key part of each programme. We:
Provide insights into your leadership's capabilities set against your competitors.

Recognise areas of development that support your strategic objectives and aim to increase your market share.

Identify where leaders may be at risk from certain behaviours or mindsets and put measures in place to manage that risk.
aKumen can be integrated with different assessment solutions. There are three core solutions available, and each targets individuals at different levels of leadership:
aKumen 'plus' – Executive




This programme examines four key areas: motivation, capability, focus and reputation.




aKumen – Senior Manager




This programme examines three key areas: motivation, capability, and focus.




aKumen 'lite' – Mid-level Manager




This programme examines two key areas: motivation and capability.
Assessment programmes are available online, as off-the-shelf or bespoke solutions, or delivered one-to-one. We also host a day-long group session that focuses on developing stronger, more effective teams.
Contact LHH today >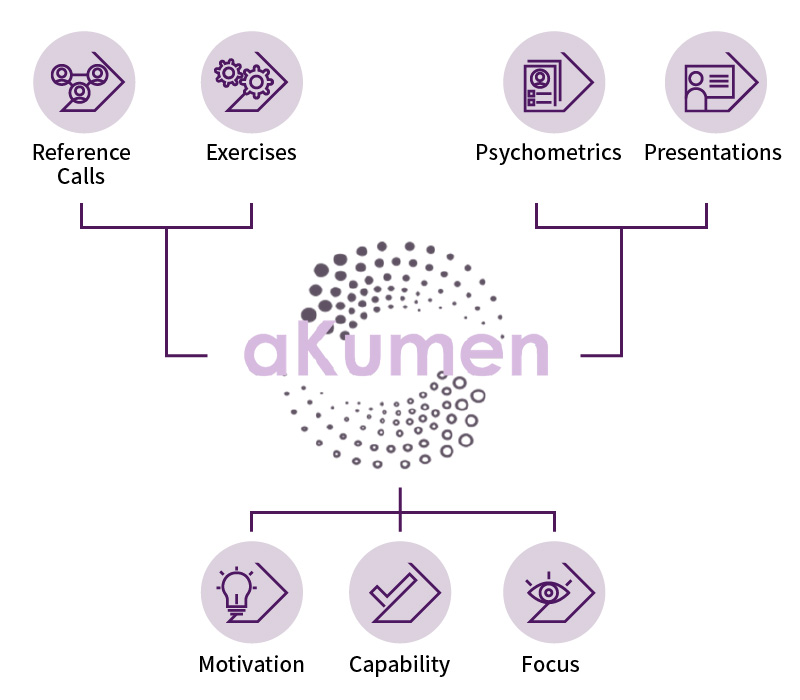 The success of every organisation rests on the strength of its leadership. Is your organisation acquiring great talent? Can you objectively and definitively identify your high potential employees? Are you promoting the right people into leadership roles? Does your succession plan have a full bench?LHH's leadership assessment solutions provide you with actionable insights into your employees and leaders so you can make the best decisions around who to hire and when, which employees have the most potential, and which leaders have the skills and capabilities to drive business success.
LHH talent assessments allow you to:
Save money and time associated with unnecessary training, errors made by poor performers, and replacement costs.




Improve the ROI and enhance the impact of coaching and development programmes leading to better employee retention, engagement, and satisfaction rates.




Define overall workforce capability, create personalised learning journeys, help leaders become more effective, prepare staff for future roles, accurately target investments in coaching and development priorities, and know when to build versus acquire talent.




Make effective decisions on recruitment and selection, internal promotion and mobility, high-potential (HiPo) identification, and succession management.




Seamlessly deliver virtual or in-person assessment solutions, anywhere in the world.



Contact LHH today >
LHH delivers scalable, technology-driven leadership assessment solutions for every need.
Available in a wide variety of languages, our Talent Portal is your single access point for best-in-class content and assessments. It is compliant with all data privacy regulations including GDPR.
All assessments and reporting can be fit for purpose, quickly and cost-effectively, and can be directly integrated with any coaching and development programme. Our data and analytics enable ongoing review and refinement, optimisation of programmes, increased ROI — and we can easily connect our data to your data from other talent programmes.
Contact LHH today >
Developing and implementing an assessment program doesn't have to be complicated.
LHH offers a range of advisory services to aid in the development and implementation of your assessment strategy and programmes —from rapid deployment of ready-now solutions to full customisation of assessments and reports. Once a solution is implemented, we use data and analytics to measure the effectiveness of your assessment programme or strategy and recommend how to optimise programmes to bring you the best return on investment

Contact LHH today >
Contact Us
Request information on how we can support your talent assessment needs
Speak to a LHH Consultant
Speak to one of our Consultants immediately
Recommended reads
Three ways to reimagine your talent development budget
What are the best talent assessment resources for your individuals and business needs?
Why your leadership team must be aligned and how to get there
Successful talent assessment needs to be aligned with the business goals and culture to maximise the effectiveness of the outcome.
Why has leadership become more demanding
What are the new challenges that leaders are facing and what can they do to continue to effectively lead from the front?