Effective virtual redundancy support
We asked our LHH candidates how they have found their virtual outplacement experience
Think about talent in a whole new way
Let us help you turn your workforce into a true force
Get in touch
There are two very noticeable changes in the world of work as a result of the pandemic – virtual working and redundancies. Two changes that are not necessarily related but they equally present a heavy burden for organisations. More than 60% of the UK workforce were working from home during the height of lockdown and it also seems like there are weekly announcements about another organisation announcing major job cuts.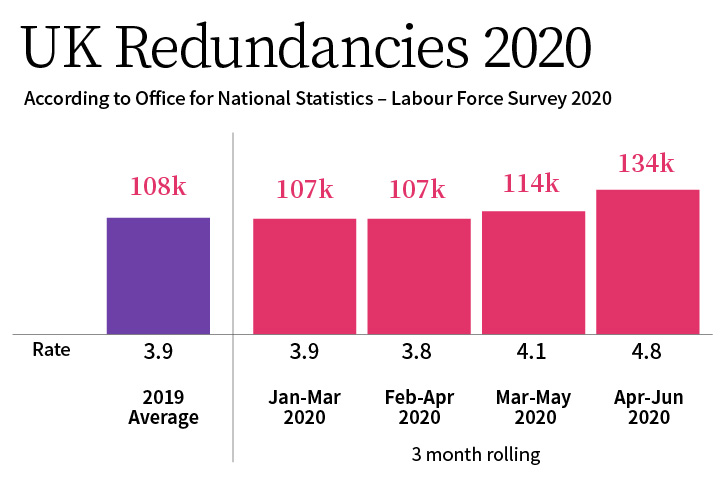 With redundancies on the rise, we take a look at the feedback from those who have been through their outplacement programme this year and had to do so virtually. We surveyed more than 300 of our LHH UK candidates to find out what their experience has been like during this unique time and there were 3 main themes:
1.
Greater reach
Despite not being able to meet face-to-face many of the comments that candidates made were positive around the interaction with their coaches. When people aren't restricted to location, they can access a broader scope of coaches that fit and match their specific needs. One person said, "Talking to my coach via Zoom is just as good (and more efficient) than meeting in person."

We have thousands of highly qualified Career Coaches who are accessible virtually from a variety of backgrounds and industries committed to supporting people with career transitions. Programme participants often credit our Career Coaches with making the biggest positive impact to their career transition experience, resulting in 92% of our candidates successfully transitioning before their programmes complete.
2. Greater flexibility
Virtual working has given us all a greater deal of flexibility in our day and this is no different for job seekers. They are able to access their outplacement support at any time which allows them to juggle any other commitments in their day. One person commented, "Being able to join remotely offers me a lot more flexibility as I get to experience the total array or workshops available and can dip in and out of the resources with ease."
Employees have 24/7 access to tools, content, and webinars on our Career Resource Network (CRN) portal which also includes free access to 16,000+ LinkedIn Learning courses providing training on hundreds of subjects to help them get ahead.
3.
Greater networks
One very important part of outplacement is the ability to network with like-minded individuals, new companies and recruiters. This can often play a key role in helping candidates connect, be accountable and ultimately find new positions. Even virtually, we have seen this benefit prove its value. This includes our annual career fair that gives people the opportunity to directly connect with companies, recruiters and their peers which was delivered virtually this year: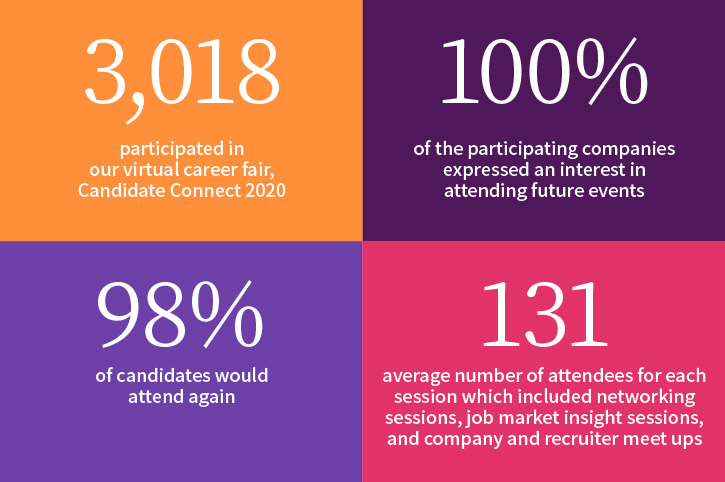 One participant said, "Well organised and structured sessions. The technology worked perfectly, I also liked the Q&A box and my questions were answered immediately in real time, adding to that feeling of being in the same room. Good range of sessions, both practical and emotional support and really helped to not make me feel alone in my job search."
Greater support during tough times
Having to let people go is always difficult but letting them go to face such a challenging job market raises the difficulty to another level. According to the Financial Times, the number of vacancies in the first 5 months of 2020 was already 40% lower than the same period the prior year. And some of those facing redundancy may find their job category is nearly eliminated in the market and will have to transition into whole new roles. Offering employees relevant and timely support that provides greater reach, flexibility and networking opportunities can make all the difference - not just to the individuals concerned but also to the colleagues they leave behind, the line mangers and HR leaders involved in the process.
Want to learn smart ways to boost your company's performance?
Outplacement services that deliver new opportunities at every employee level
Learn More