Coaching
Scale coaching throughout all levels of your organisation to elevate and accelerate performance.
Coaching is more important now than ever.
LHH Coaching
Coaching is a strategic leadership development tool that accelerates and drives individual, team and organisational performance.
Through LHH coaching, leaders learn to adopt new mindsets and behaviours that help them build better relationships, eliminate ambiguity and execute organisational priorities.
Using our proprietary Results-Based Coaching Model and ICF-accredited approach, our coaching solutions will have a positive impact business performance and help you build your talent pipeline.
> For more information, register your interest or call 0207 933 8333.
Benefits of an LHH Coach
Our coaches are highly commercial and experienced coaches providing tailored support to enable executives to achieve potential
LHH coaches are members of the Global Coaching and Mentoring Alliance (ICF, EMCC, AC) and committed to their ongoing personal coaching development
LHH coaches work within the 'system', ensuring coaching goals are linked and contribute to strategic organisational objectives.
Why invest in an LHH coaching programme
Our commercially focused International Coach Federation (ICF) accredited coaching model is designed to deliver results aligned to business goals
We work in partnership with you to 'chemistry check' our coaches with your business. Studies have shown that the working relationship between coach and coachee is one of the key indicators of a successful executive coaching programme
Organisational insights through analytics, feedback and insight on coaching
We provide clear ROI measures of success and analytical insight based on our 3 P's approach plus end to end project management support.
> For more information, register your interest or call 0207 933 8333.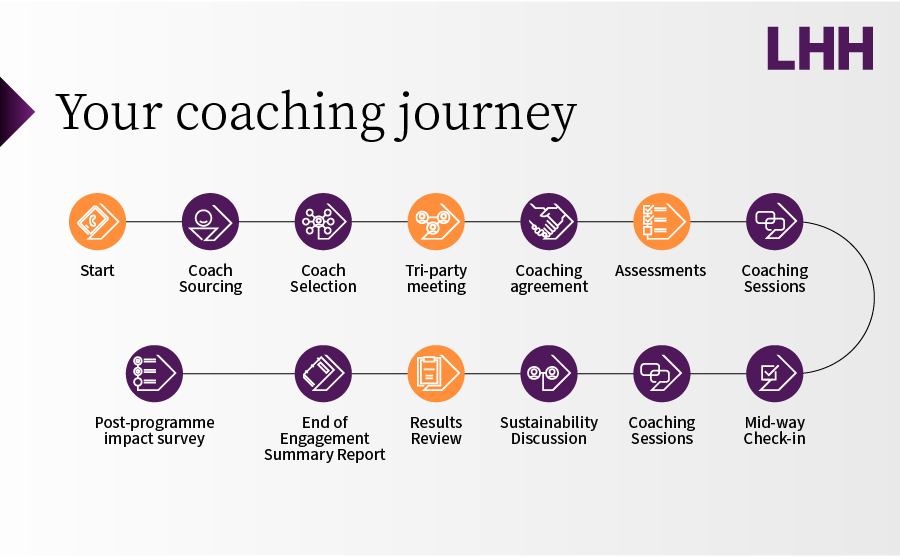 Executive Coaching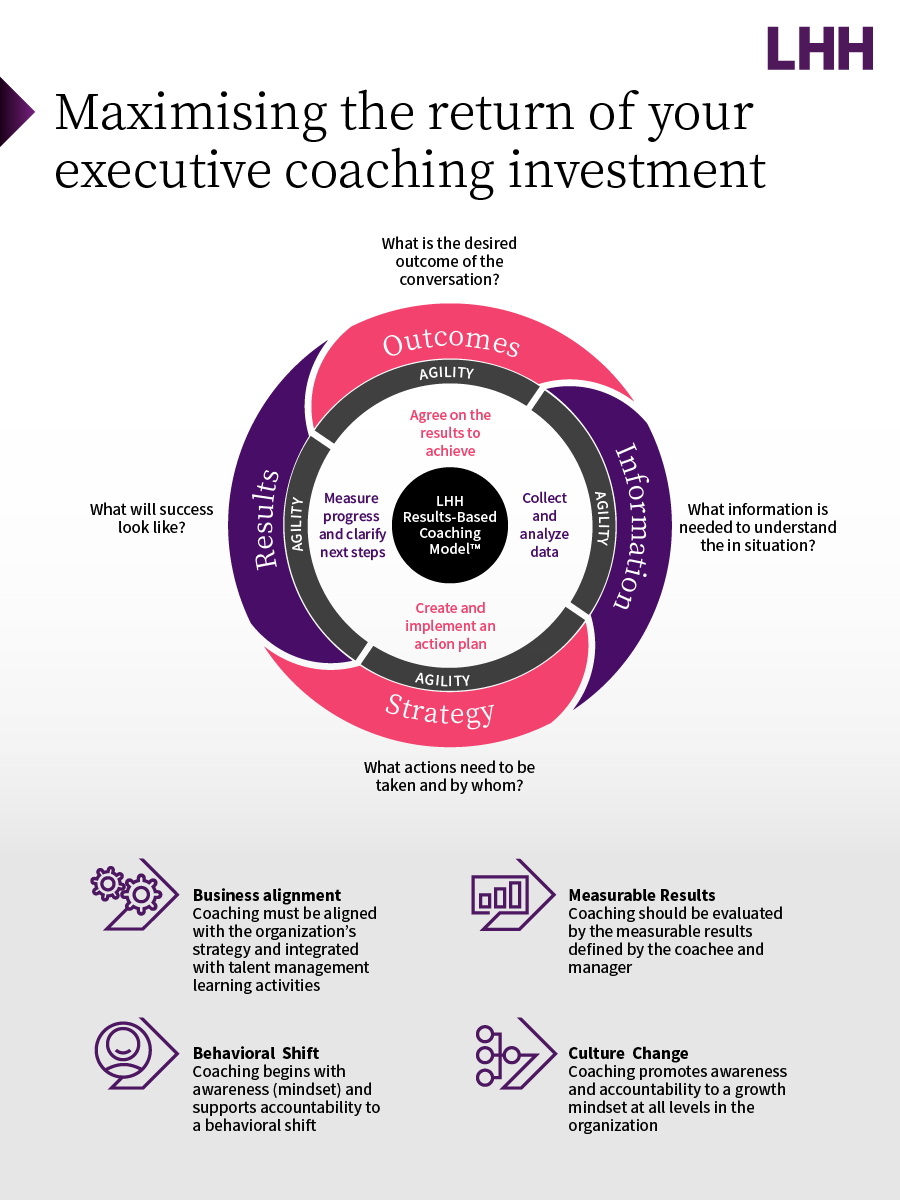 The best leaders are committed to excellence. LHH Executive Coaching builds and strengthens key leadership skills, attitudes and behaviours that define great leaders. You will be better prepared than ever to deal with ambiguity, overcome complex challenges and achieve goals.
LHH approach to executive coaching is designed to:
help leaders define and further leverage existing strengths
develop skills needed to execute critical leadership roles, both current & future
assists leaders in acknowledging and addressing "blind spots"
equips leaders with skills and behaviours needed to be agile in times of change, organisational growth.
> For more information, register your interest or call 0207 933 8333.
Results based coaching
Solving today's challenges requires a different level of thinking. Thinking that challenges leaders and teams to expand their mindset and create space to quickly develop fresh ideas. LHH executive coaching incorporates 4 key result factors when measuring a successful coaching outcome.
LHH Point of View on Coaching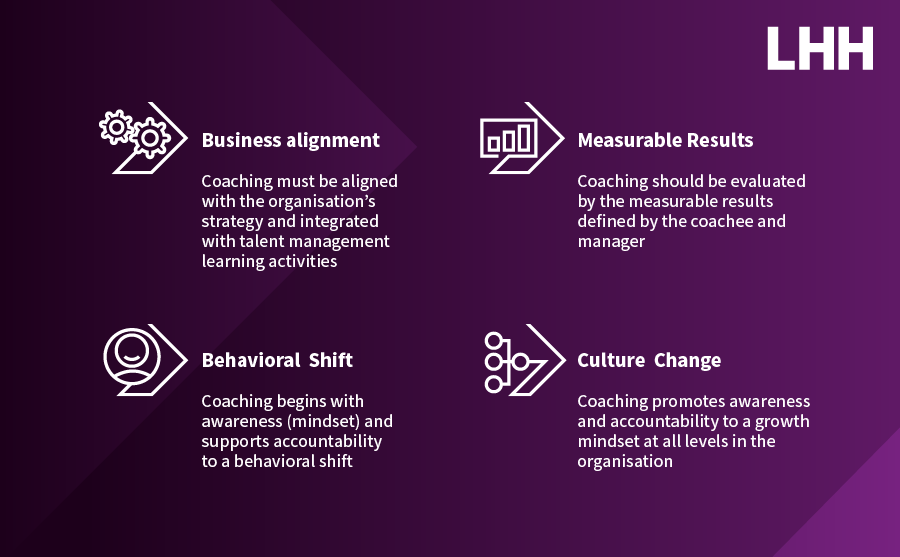 > For more information, register your interest or call 0207 933 8333.
Build a Coaching Culture
Amplifying the impact of coaching
Companies that truly embrace a coaching culture experience faster employee onboarding, increased productivity and higher employee engagement. Many organisations believe that coaching can act as a catalyst to drive performance at an individual, team and organisational level. But to maximise the full potential of coaching, it needs to be incorporated into an organisation's culture.
> For more information, register your interest or call 0207 933 8333.
LHH is uniquely qualified to advise and partner with you to create a coaching framework aligned with your business strategy, to enable the lift in leadership and quality conversations that you seek.
We believe that the three main pillars of building a coaching culture include leadership engagement, creating a learning architecture that emphasises a coaching culture, and systems and structure that support the sustainability of a coaching culture.
We can help you develop coaching skills inside your company. Your managers and leaders will be better prepared to nurture their people's capabilities, guide their careers and handle unexpected day-to-day challenges.
> For more information, register your interest or call 0207 933 8333.
Research has shown the positive impact that developing a coaching culture can have on a business.
"Organisations with strong coaching cultures indicate recent revenues above that of their industry peer group (46% compared to 39% of other responding organisations) and report higher employee engagement (61% and 53%, respectively)."
ICF 2017


"Among organisations with a strong coaching culture, approximately three in five (61%) are also classified as high performing organisations. Among organisations without a strong coaching culture, only 27% are also classified as high-performing organisations."
ICF 2018
Find out how LHH can help