The Time is Now: Transformation Opportunities Emerging From The Pandemic
It is unclear if business will ever return to pre-pandemic norms, which is why leaders need to assess risk but also embrace a sixth sense to predict and accurately adapt and evolve business practices to best fit the future workplace and market demand.
Think about talent in a whole new way.
Turn your workforce into a true force.
Let's talk.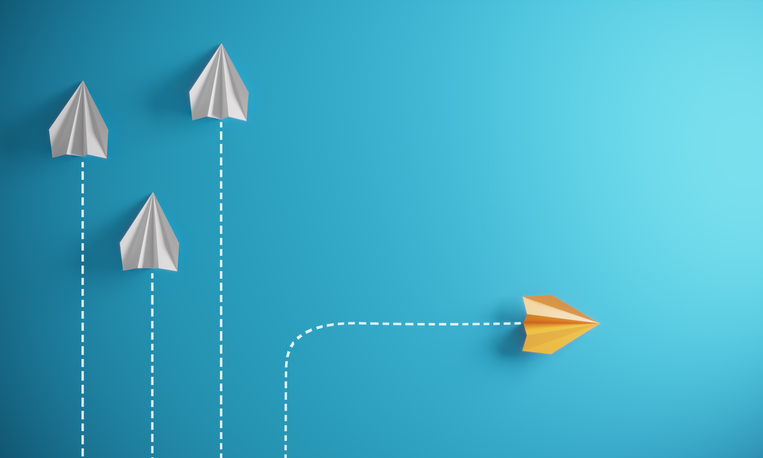 This article was originally published on HR.com.
During the prolonged experience of the pandemic, it has become increasingly clear that to thrive within the ambiguities of the market, organizational leadership needs to shift from being normative to being transformative.
Agile leaders who can anticipate market opportunities and take risks to accelerate change have always been in demand. But the COVID-19 pandemic has made them even more valuable – and the need for this skill set – even more urgent.
Why now?
Companies are typically most comfortable with a cycle of continuous improvement, offering small incremental change. Big change is much harder, especially now with teams working from home and no precedents to turn to for guidance to drive that change. But the pandemic has irretrievably altered everything about the way we work, including a necessary urgency to adapt.
Leaders who can rise to meet the challenge will be happy to learn that Boards and CEOs are more likely to show leeway throughout the remainder of this year for making the big moves that are essential to truly transform a business. Board directors are open-minded and recognize the need to change their business model to stay competitive within the market. This ranges from looking at talent in different global locations to taking advantage of new opportunities that organizations can create because of a more innovative, pressing mindset and culture.
At LHH, we believe businesses have an unprecedented opportunity right now. As organizations have innovated and learned to adapt to the pandemic, new opportunities are realized, accelerating new offerings that in normal conditions would have taken months or years to create. The opportunity is to take advantage of this latitude now, not waiting for next year when Boards and CEOs are going to demand results for what should have been started in 2021. No one knows how this will affect work going forward but we know that leaders are finding more grace in making riskier decisions and driving innovation now. It is going to continue to make 2021 a very interesting year for transformations.
Essential elements of a key transitional leader
Finding the right leader for right now is the real challenge. We feel that the truly transformative leader does not just disrupt for disruption's sake. They know how to navigate as a team player and act as a facilitator to empower those around them to succeed as well. They know how to imagine the future and evolve the culture to accelerate performance. This collaborative approach embeds innovation, adaptability, and resilience within the organization.
Our team at LHH knows cultural change driven by innovative leaders is a necessary element for a successful transformation. The successful leaders will be forward thinkers, helping to frame the future, embrace and evolve the corporate culture and inspire active and inclusive participation to accelerate business performance. When recruiting these leaders, it is important to assess both their capabilities and their approach towards risk aversion, along with their abilities influence their peers.
For Executives to be considered as transformational leaders and capitalize on the emerging advantages, they must ask themselves what both short and long-term success will look like for their organization? How do we act on this new venture and have we made the necessary changes to provide for the needs of our customers and employees in the post-COVID-19 market?
It is unclear if business will ever return to pre-pandemic norms, which is why leaders need to assess risk but also embrace a sixth sense to predict and accurately adapt and evolve business practices to best fit the future workplace and market demand.
The biggest risk is to do nothing
There is no crystal ball to help predict the full market impact of COVID or determine the way forward that will best build back confidence. It will be important for transformational leaders to rethink the barriers to risk to effectively encourage and lead change. The window to act is now.
At LHH Knightsbridge, we focus our executive search and assessment methodology to identify those candidates who demonstrate these transformational leader capabilities, enabling executives to navigate the unpredictable market and capitalize on potential opportunities to advance their organization.
……….
Tim Hewat is a Partner at LHH Knightsbridge with over 30 years of management experience leading strategic teams in several technology sectors. As a Partner, he focuses on transforming companies through Executive and Board appointments by identifying candidates who can deliver the level of cultural change and innovation necessary to transform the organization. Tim.Hewat@lhhKnightsbridge.com
Greg Leskew is an SVP in Talent & Leadership Development with LHH and is based in Toronto. Greg works with organizations to simplify how they identify and grow their talent in an increasingly complex world. Greg.Leskew@LHH.com
Want to learn smart ways to boost your company's performance?