The IT industry is one of the sectors in Germany with the greatest shortage of skilled workers: In 2022, there was a shortage of 137,000 IT specialists, and the trend is rising. Since 2009, the demand in the industry has been rising constantly and experts predict a further drastic increase in unfilled positions in the coming years. The situation is dramatic: Overall, 66% of companies in Germany had difficulties filling vacant IT positions in 2020. In 2022, a vacancy was only filled after an average of 7.1 months. This development could threaten Germany as an economic power. Moreover, this situation endangers the competitiveness of German companies on the global market.
Despite war and crises: Demand for qualified IT experts on the rise
Number of IT positions to be filled in the overall economy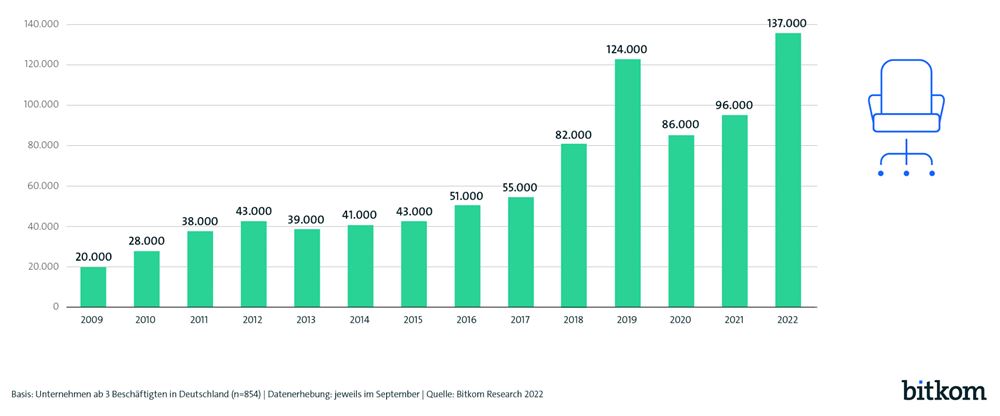 Source: Bitkom (https://www.bitkom.org/Presse/Presseinformation/Deutschland-fehlen-137000-IT-Fachkraefte)
Why is the need for IT specialists so great?
The reason is, of course, the advancing digitalisation. Companies are no longer asking themselves whether they should become more digital, but how and when. The consequence: more and more digital and IT experts are needed to support both companies in the private sector and the public sector with digitalisation. Whether big data, data security (cybersecurity) or cloud solutions – IT specialists are needed everywhere. Another not insignificant aspect is demographic change: in the next few years, more employees with an IT background will leave the labour market than enter it. All these factors mean that the shortage of skilled workers in the IT sector is becoming an even greater problem.



How can companies become more successful in recruiting and retaining IT specialists?
The challenge for companies: IT specialists know about their outstanding negotiating position with companies and their job guarantee that lets them choose the best offer. They can afford to ask for a lot. Companies must be prepared to find creative ways to approach IT professionals and conduct a conversation.



Attractive salary, free sports courses, flexible working hours – more is more here
In addition to an attractive salary package, flexible working conditions are a must today: a job for an IT specialist without home office options is almost a no-go. At the latest since the corona pandemic, working from home is almost taken for granted by employees for whom this is generally possible. But that's not all: at best, you offer other employee benefits such as public transport, sports and food allowances, back and yoga courses or bonuses. Companies that can offer IT experts the most benefits have the best chances with the candidates.



A wide range of further education, naming of concrete projects and programmes and rapid recruitment
Medium-sized companies that do not pay an outstandingly high annual salary compared to corporations and can offer countless additional benefits should improve in the following areas: Expand the offer on further education. For many employees, this is an enormously important factor in choosing a company.

In addition, it is a good idea to describe customer projects, tools, software programmes, technologies, frameworks and the like very concretely: The more concrete the description, the more likely applicants will be able to imagine something. In addition, it is important to speed up new hires and shorten the hiring process: consider whether you can loosen the hiring requirements for some vacancies. It may be worth giving a chance to a candidate who may not have a degree, even though that is what the job actually requires. There are competences and skills that applicants can acquire on the job.



Streamline hiring processes
If you have a complex and long recruitment process in your company: Rethink it too. The goal should be a streamlined recruitment process that speeds up new hires. Are there instances that do not necessarily need to participate in the recruiting process? Do you see a way to turn three interviews into two? Any step that does not necessarily need to be taken should ideally be eliminated.



Use business networks
Post your job on LinkedIn, Xing and co. If you have been sceptical about this recruitment option so far, the following figures may convince you: Every minute, an average of four new jobs are filled via LinkedIn job ads. Meanwhile, 19 million users are registered on LinkedIn in the DACH region. Not only are learnings and successes from professional life shared here, but potential employers are also scrutinised. So at least make sure you have an appealing company profile on LinkedIn.



Engage in active sourcing
The time when companies could hardly save themselves from offers is long gone. Today, companies have to make an effort to find workers. Simply placing a job ad and hoping for applications from the best IT candidates is no longer the way to go. According to several studies, most IT talents want to be actively approached – not by a headhunter, but preferably by someone from the specialist department, usually the IT department. However, the first approach by the HR department is fine for one third of the respondents. The target group prefers to be contacted by e-mail, not by telephone.



Alternative interviews
It may also be time to rethink the classic job interview for IT specialists. Datagroup, a company in the IT sector, regularly organises events in a pub: candidates, colleagues and bosses are supposed to get to know each other informally in a relaxed atmosphere. This way is more authentic than the typical mostly stiff job interview – a quality that is important to the target group.



IT experts from Russia and Belarus: potential to fill 59,000 IT positions
According to Bitkom, 37% of companies with open IT positions would hire experts from Russia and Belarus if an official security check had been carried out beforehand. In fact, only 1% of companies have hired IT specialists from these two countries. 11% of companies had planned to do so since the Russian war of aggression, but failed due to bureaucratic obstacles.
According to Bitkom, the immigration of qualified IT employees should be made easier in principle. This is also important because the interest in studying informatics / information technology in Germany has been declining since 2019 and correspondingly fewer graduates are entering the labour market.



Cooperation with a recruitment agency
It is often worthwhile to cooperate with a recruitment agency when vacancies arise. The HR departments of most companies are usually not particularly large and busy with other things. Staffing companies have a large network of highly qualified candidates who are often not actively looking for a new job. Moreover, they know both the skills of the candidates and the specific requirements of the employers. The advantages for companies: Your colleagues and you save valuable working time and unnecessary interviews with candidates who will not fit from the start. A recruitment agency can help to fill vacancies much faster with the desired candidate.

LHH has been supporting companies in their search for suitable specialists and managers in permanent positions or for interim projects in the IT sector for around 20 years. Our consultants match you with the talent you need to be successful in the long term and advise you on how to retain them.

If you'd like to find out more, just take a look at our services and if you'd like to speak to an LHH consultant directly, please don't hesitate to contact us. We will be happy to assist you in finding the right IT professionals for your business.