Disproving 8 Common Myths of Temporary Work
In this current labor market, temp talent may be the solution your team needs. Read our latest blog to learn more about it and how LHH can help you find the right talent at the right time.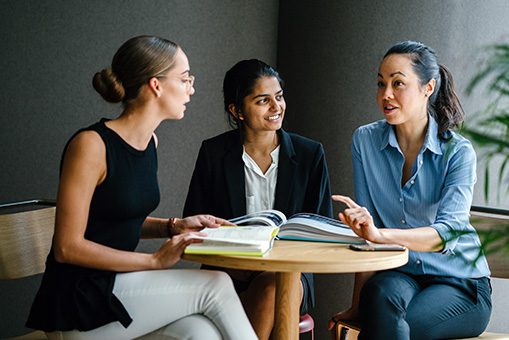 While economic conditions remain uncertain, hiring temporary workers is becoming more popular. Almost 78% of business leaders said they are more likely to hire temp workers than permanent employees nowadays. Still, there are regular misconceptions about temp workers. Here are some of the most common myths:
1. Temp workers are only for unskilled work
False! Most temp workers have highly specialized skills in an advanced field. Temp work adds highly desirable skills and experiences to a worker's resume and hiring managers who see the benefits of short-term hiring understand that the diversity in projects provides candidates with valuable experience.
2. Temp workers are people who can't find or are not interested in permanent work
In fact, many people choose short term work. It can help them gain new skills, fill resume gaps, explore new careers and industries, or provide more flexibility. And, almost half of employees on temporary assignment do so in the hopes of gaining permanent employment.
3. I can't find new top talent by hiring temp workers
In reality, temp workers are a great way to screen for top talent without risking a bad permanent hire. Temp-to-hire allows you to evaluate the worker's skills, cultural fit, and work ethic while avoiding the cost of a permanent hire. Talk to one of our expert recruiters to find the right talent for your organization.
4. Hiring a temporary employee is more expensive than a direct hire
In fact, the cost of hiring a temp worker is often lower than the cost of hiring a permanent employee. When working with LHH we cover the recruiting, vetting, and pre-interviewing, saving you time, resources, and the potential cost of a bad hire. Often resulting in a very economical solution for businesses!
5. Temp workers are not dedicated or motivated
On average, temporary workers display better performance relative to business goals than their full-time counterparts. Temp workers are typically seeking new experiences, skills, or permanent employment. They will be dedicated to showing their work ethic and proving themselves of value to the company.
6. I must offer benefits for temp workers
Not true! When working with LHH, associates can take advantage of the many healthcare, retirement, and other employee benefits offered. You're always welcome to supplement PTO and non-traditional benefits at your discretion.
7. Temporary workers are part-time workers
In fact, a majority (73%) of temp workers work full-time which is roughly equal to the number of permanent employees that work full-time (74%). Temp workers are an ideal way to replace employees on family leave, sabbaticals or vacations. Contact one of our recruiters to help you replace your key employees on leave with top talent.
8. Temps are unreliable and will negatively impact productivity and workplace culture
Temp workers can boost morale and breathe fresh air into the team by bringing new skills, innovative perspectives, and relieving stress on current employees, often resulting in an increase in team productivity. At LHH we work to find the right match for the right opportunity, ensuring both the employee and employer are engaged and mutually benefit from the relationship.
In ever-changing times where uncertainty reigns, hiring temporary workers is crucial. With the flexibility and highly specialized skills, temp workers are the economical solution you are looking for to keep up with the high demand and fill the skills gap. At LHH we can help you find the right temporary talent to help you assemble your dream team. Contact one of our expert recruiters today.