How to help employees own their career journey
The world of work is changing at breakneck speed. Career planning can help employees stay ahead.
OCT 16, 2023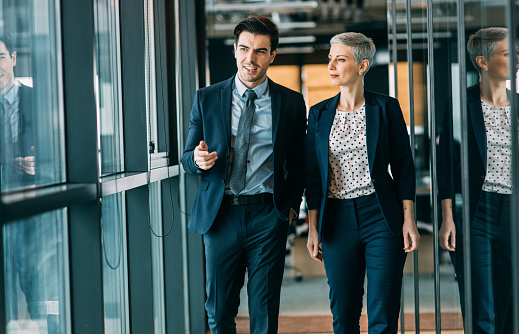 Five years ago, the Institute for the Future, a California-based non-profit think tank, predicted that 85% of the jobs in 2030 still hadn't been invented. Whether that forecast plays out remains to be seen, but the headline-grabbing figure captures a deeper truth about the world of work today: it is changing at breathtaking speed.
How can organizations help their employees prepare for this uncertain future and own their professional journeys? By encouraging and facilitating something called career planning, a strategy that involves people taking the time to understand their skills, values, strengths and interests, defining their longer-term career goals, and then putting in place a plan to turn those aspirations into reality.
When done right, career planning can not only help people future-proof their employability, it can also lead to greater job satisfaction and boost their job performance.
Ready to help your team on this journey? Here's how, with some advice on what questions to ask yourself along the way from Melanie Stave, a member of the Career Transition & Mobility leadership team at LHH.
The foundations of proactive career planning
1. Knowing themselves
The first step of career planning involves someone gaining a deeper understanding of their skills, personal values, what they enjoy doing, and the areas in which they excel.
A simple but under-utilized way of helping them do this is to facilitate career conversations between employees and managers, who should be well positioned to help them understand what areas they might need to develop to remain competitive in the workforce. Another way of achieving this is by facilitating exploratory sessions that give them the time and space required to do this work. For example, LHH has facilitated sessions drawing on Edgar Schein's concept of career anchors, which can help people better understand their skills and competencies, as well as what motivates them at work and beyond.
2. Understanding where they'd like to be
Once they understand what motivates them and where their strengths lie, they can start thinking about how that might translate into long-term career satisfaction. At LHH, we have practical tools that can help employees connect those dots. For example, the career path section in our career mobility portal uses machine learning to suggest roles that might match an employee's skills and interests.
3. Creating a plan to get there
After an employee has identified areas for career development, it's important they are able to put in place clear and achievable goals that will help them get there. Again, the LHH career mobility portal is one way of helping them do this. For example, after they have pinpointed some internal roles they might be interested in exploring, the tool will highlight which skills they are missing and suggest a learning map of available courses that will help them close the gap.
Things to consider along the way
1. Make sure employees realize they are not alone
We each own our career, but that does not mean we are on our own. "Organizations need to provide employees with the right learning, the right tools and the right resources," explains Stave. For example, companies that collaborate with LHH have access to reskilling and upskilling programs through partnerships with LinkedIn and General Assembly.
2. Help people broaden their concept of career development
"We focus a lot on vertical promotion: I get promoted, therefore it's career development," explains Stave. But when you're thinking about career planning, it's important to broaden your understanding of what development really means. "It can also be about learning something new, or taking on more responsibility in your existing role, or using your skills in another area or project."
3. Focus on skills
LHH research has found that 77% of workers say they have a skills gap, a trend that could be exacerbated by the changes in the workplace. To make sure your employees are ready for these changes, help them become lifelong learners and develop the skills needed to be sustainably employable. "If people are focusing on their skills rather than a job title, there are so many more things they can do with their career," says Stave.
Career planning is a skill itself, which needs to be learned. By helping employees do so, organizations can ensure that however much the world of work transforms, their teams are prepared.
Learn more on www.lhh.com.