Financial Analyst Job Description
View the financial analyst job description for information and details about this position. Submit your resume online for a quick and easy apply today!
FEB 03, 2022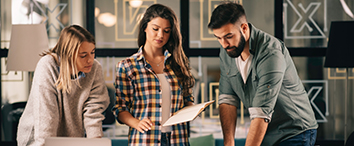 What is a Financial Analyst?
A Financial Analyst's primary role is to analyze the past and present financial data of the organization and estimate future revenues and expenditures. Their duties include predicting the return on investment for different stocks and business ventures, writing financial reports and collecting industry research to inform decision making. Financial Analysts gather data to understand the trends affecting a specific type of product, geographical region or industry to help their clients make important investment decisions.
Financial Analysts typically work at banks, consulting firms, mutual funds and corporations to generate wise investment strategies and support overall financial growth and stability. They report to a supervisor or manager. In most cases, a Financial Analyst needs at least some experience working in the finance or investment banking sectors before entering this position. A master's degree in business administration or finance can prove an applicant's knowledge in the field, which might be able to substitute for any experience requirements.
Education Requirements
Bachelor's degree
O-2 years of experience in the field or in a related field
Familiarity with financial programs and software
Basic understanding of principles of finance
Financial Analyst Essential Skills
Strategic thinking
Ability to persuade senior stakeholders
Understanding of Sarbanes-Oxley
Ability to multitask
Presentation skills
Time management and organizational skills
Financial Analyst Roles & Responsibilities
Analyze financial data and provide forecasting support
Organize data into accessible reports and perform various types of analysis using key metrics such as yearly growth, return on assets, return on equity and earnings per share
Review all non-legal pertinent information about prospective deals
Oversee financial functions, such as assessing, auditing, planning, budgeting, taxes, consolidation, cost control and project control
Evaluate and analyze capital expenditures, depreciation, proposals, investment opportunities, rate of return, profit plans, operating records, financial statements, etc.
Study a company's financial data to give advice for guiding business investments and overall financial strategy.
Day-to-Day Duties
Analyze current and past financial data and performance
Prepare reports and projections based on analysis
Evaluate current capital expenditures and depreciation
Explore investment opportunities
Establish and evaluate profit plans
Identify trends in financial performance and provide recommendations for improvement
Coordinate with other members of the finance team to review financial information and forecasts
Provide financial models and forecasting