Loan Officer Job Description
A loan officer helps borrowers get approved for large loans like mortgages. Learn more about what exactly a loan officer does in our detailed article.
FEB 03, 2022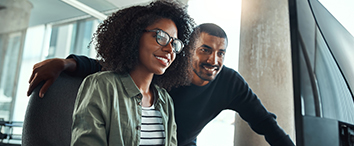 A Loan Officer evaluates loan applications for businesses and individuals. Banks and other financial institutions rely on Loan Officers to screen applicants, helping clients get a loan that fits their needs and their financial possibilities while explaining to applicants the terms of each loan.
Loan Officers work for financial institutions, usually banks, to sell financial services and loans to customers based on their needs and qualifications. They commonly work with homebuyers, but they can take on clients with different goals. This role requires several years of relevant work experience, particularly in customer service and the finance industry, such as a Teller position at a bank or accounting work. Loan Officers typically advance to Loan Authorizers, Senior Mortgage Officers and Mortgage Underwriters.
Education Requirements
Bachelor's degree in finance, economics, or a related field of work
Mortgage Loan Originator (MLO) license
Certification by the Nationwide Multistate Licensing System (NMLS) National and State testing
Loan officer courses and NMLS approved education for pre-licensing are required for acquiring a license
Loan Officer Essential Skills
Customer service skills
Thoroughness
Excellent at communicating with clients
Analytical skills
Effective decision making
Loan Officer Roles & Responsibilities
The first point of contact with prospective loan clients
Promote the institution's services and assisting clients in determining the most suitable loan to meet their financial objectives and needs
Oversee the staff responsible for mortgage application paperwork
Evaluate and authorize the approval of business, real estate, or credit loans
Day-to-Day Duties
Review financial data in order to determine risk factors
Meet and follows up with applicants and clients in order to keep all information up to date by completing credit and loan documentation and contacting them to obtain additional information regarding loan applications
Approve loans by issuing checks or forwarding applications to loan committee
Submit reviewed applications to management in order to approve or reject the loan
Schedule and track closing dates, contingency dates, and loan lock expirations
Complete loan contracts by explaining risks to applicants, reviewing filled applications, obtaining signatures and notarizations, and collecting fees