Public Relations Manager Job Description
PR Manager qualifications, educational requirements, common interview questions and more. LHH connects PR professionals with opportunities nationwide.
FEB 03, 2022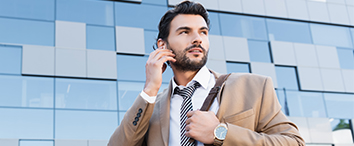 What is a Public Relations Manager?
The Public Relations Manager is a mid-level management role for someone with 6-8 years of experience in the field. Public Relations Managers create and maintain a favorable public image for their employer or client by communicating programs, accomplishments and/or points of view. They typically report to the head of a unit/department.
These professionals are tasked with fielding media questions and pitching stories to the media, preparing media kits and organizing press conferences. They also release information to counter negative publicity and handle crisis and emergency communications.
Education Requirements
Bachelor's degree in Public Relations, Journalism, English, Communications or Marketing with a PR or Advertising concentration
Public Relations Manager Officer Essential Skills
A confident communicator and presenter
Excellent verbal and written communication skills
Excellent organizational and planning skills
Have a full understanding of media needs and media relationships
Be proactive, reliable, responsible and accurate with an attention to detail
The ability to keep information confidential
Tactical understanding of all primary social media platforms
Ability to work in high-stress environments, often for long hours
A wide degree of creativity and latitude
Self motivated with a positive and professional approach to management
Public Relations Manager Roles & Responsibilities
Field media questions
Pitch stories to the media
Prepare media kits
Organize press conferences
Hire and manage freelance copywriters, graphic designers and others
Manage the public relation's department budget
Engage in dialogue and interact with both internal business leaders and executives as well as the broader constituents affected by a company's product and policies
Day-to-Day Duties
Help clarify their organization's point of view to its main audience through media press releases and interviews
Write speeches for organizational leaders
Develop advertising and marketing communications material
Prepare articles for corporate newsletters
Oversee full-time employees
Monitor social, economic, and political trends that might affect their organization
Recommend ways to enhance the firm's image on the basis of trends