Non-Traditional Benefits Employees Want
Pizza parties and ping-pong tables are officially out. Employees want true benefits that enhance their wellbeing, success, and work-life balance. Here are a few ideas to bolster your benefits offerings!
MAY 19, 2023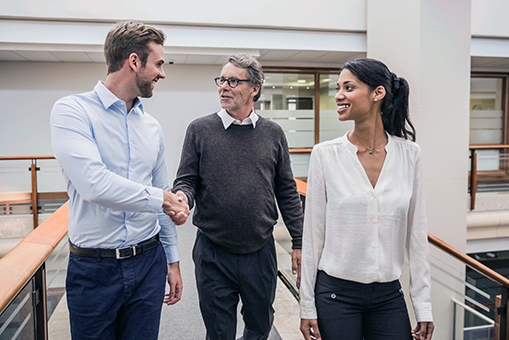 In today's job market, offering a competitive salary and healthcare benefits isn't always enough to attract and retain top talent. In a tight labor market with a potential recession on the horizon, not only is competition steep but organizations may not have a ton of discretionary budget to offer for salary boost. This is where non-compensation benefits come in–from flexible work arrangements to financial wellness programs, there are a variety of non-traditional benefits you can offer your teams to set yourself apart from the competition without breaking the bank. Here are popular options and how they can benefit both the employee and the employer:
Creatively adopt schedule flexibility:
Flexible work arrangements: This is no surprise. Many employees appreciate the option to work from home or have a flexible, hybrid schedule. Implement an effective system to coordinate and communicate availability.
Experience Bonuses: Provide $1,500 or an all-inclusive voucher to take a trip, concert ticket reimbursements, a monthly allowance for dining out, white water rafting trips or art classes.
Volunteer time off: Many employees are passionate about giving back to their community. Offer paid time off for volunteering, allowing employees to contribute to causes they care about.
Adopt outcome-based work models: Scrap the traditional schedule and opt for a combination of remote flexibility, unlimited PTO, travel accommodations, etc. If the established goals of the role are being met, letting go of a rigid schedule can not only diversify your candidate pool but lead to happier, more engaged employees.
Sabbaticals: Sabbaticals provide employees with extended time off to rest and recharge, supporting their well-being and preventing burnout.
Summer Friday: Let your teams kick off the weekend a few hours early without using their PTO during the summer months – they'll appreciate the extra time and come back Monday refreshed.
Unlimited PTO: Allow employees to take as much or as little time as they want without having to calculate PTO down to the minute. We recommend a minimum required number of PTO hours to make sure employees are using it.
Introduce programs to enhance the wellbeing of your employees:
Wellness or fitness programs: Offer wellness programs that promote physical and mental health. These programs can include fitness classes, gym memberships, mental health support, and healthy food options in the office.
Financial wellness programs: Provide resources and education to help employees manage their finances, invest, or save and plan for the future. These programs can include financial planning sessions, access to financial advisors, and resources to help employees pay off debt.
Employee resource groups: Employee resource groups (ERGs) provide a space for employees to connect with others who share similar experiences or identities. Creating ERGs is a great way to foster a sense of community and support within the workplace.
Professional development opportunities: Employees are often looking for opportunities to learn and grow within their careers. Offer professional development opportunities such as training, mentorship programs, and access to conferences or workshops.
Pet-friendly policies: Many employees consider their pets to be part of their family. Offer pet-friendly policies, such as allowing employees to bring their pets to work, discounted pet insurance, and company branded pet swag.
Bolster your traditional benefits programs:
Family leave and fertility benefits: Offer employees time off to care for a newborn or newly adopted child beyond the minimum legal requirements, more in line with global standards. For traveling mothers, consider covering the cost of shipping breast milk. For hopeful parents going through fertility treatments, offer extended coverage through your provider.
Caretaking assistance: It's not uncommon for childcare or a caretaking facility to rival the cost of a mortgage. Alleviating that expense relieves a huge burden–whether it's for a child or aging parent.
Pension plans: Explore retirement benefits and plans you can potentially offer your employees in place of a traditional 401K–could a long-term pension plan encourage longer-term employee commitment?
Student loan repayment assistance: Many employees are burdened with student loan debt, making debt repayment assistance to alleviate financial stress a popular offering.
Home office expenses: Provide a stipend for desks, tech, ergonomic chairs, internet and phone usage. This sets both the employee and the team up for success from anywhere!
Car Allowance: For those back in the office, a little workplace-commute assistance goes a long way! Consider adding vehicle and mileage expenses or public transportation reimbursement to your benefits offerings.
While we're joking about the pizza parties, it IS important for employers to be creative in offering programs and benefits that are truly important to employees, particularly when searching for top talent in a competitive job market. Offering a variety of benefits that meet the diverse needs of employees also creates a supportive and inclusive workplace that values the team.
For candidates on the market for a new job, consider the non-traditional and non-monetary benefits that will truly add value to your work-life-balance, and bring those to the table in your counteroffer conversations about your total compensation package.