Three Steps to Building Your Professional Online Brand
Learn how to harness the enormous power and potential of social media and do it in a way that helps build your personal brand rather than stain it.
JUN 02, 2021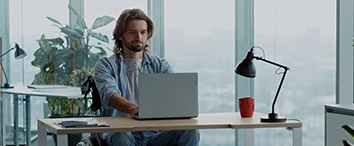 It did not take long before Alexi McCammond's social media past came back to haunt her.
In early March 2021,
Teen Vogue
announced with some fanfare that McCammond – a top political reporter of some renown – was being hired as editor in chief. It appeared at first blush to be quite a coup for the magazine; the 27-year-old McCammond had been named the emerging journalist of the year in 2019 by the Association of Black Journalists.
But just a few days after her hiring was announced, various online sources began to highlight Tweets and Facebook posts she had written a decade earlier that included racist and homophobic comments. That prompted nearly two dozen staff members at Teen Vogue to protest the hiring. McCammond posted a very complete and very public apology for her language, but her fate was sealed; on March 18 she resigned from her post in disgrace.
McCammond is not the first notable person to lose their job for unsavory social media content, and she likely won't be the last. But she is a recent reminder that your social media footprint can have a devastating impact on your career aspirations.
CareerBuilder, a global search and recruitment firm, reported back in 2018 that 70 percent of employers use social media to research job candidates during the hiring process, and about half do regular checks of the social media profiles of existing employees.
And what happens if they find objectionable content? More than half of respondent employers said they found content that convinced them not to hire someone, and 34 percent have reprimanded or fired an employee because of online content.
In case you were wondering, employer interest in your social media activities has only increased since that survey was conducted.
A
similar poll
conducted by business news site The Manifest in April 2020 found that 98 percent of employers do online background research on job candidates, and that 79 percent have rejected a candidate based on social media content.
Now, before you go out and expunge all your accounts, you should know that employers are just as concerned if you have no social media presence: the CareerBuilder poll found 47 percent of employers said they were less likely to offer someone an interview if they had no online presence.
That may seem like a bit of a Catch-22; damned if you do post on social media and damned if you don't. The obvious solution is to harness the enormous power and potential of social media but do it in a way that helps build your personal brand rather than stain it.
But where to start?
1/ The Mini Audit:
Go to Google, search yourself, and see where you show up. Check each result that comes up with your name to find out what someone else has said about you, or what you have said about something or someone else. If some embarrassing or dated results come up, consider ways in which you might be able to delete or mitigate their prominence.
2/ Raise your profile:
As the survey results show, having very little social media profile is almost as bad as having a negative profile. At the very least, make sure that the accounts you have complete control over – your personal Facebook, Twitter, Instagram and particularly Linkedin – have no objectionable content but do have lots of valuable information about who you are and what you've done in your career.
3/ Don't go dark.
A sudden cessation of activity in social media accounts can definitely send the wrong message. It's okay to be concerned about saying or retweeting the wrong thing, but social media accounts that are not current, and seem to have been put into hibernation at the same time make you look like someone who has something to hide. Be purposeful when selecting content to post to be sure it tells the right story to prospective employers.
The marriage between the business world and social media is likely to become closer and more complex as time goes on. What may have started as something that was deeply personal and unrelated to business or career has now become a foundational element in your professional brand.
Be active. Be positive and be aware of what you might have said or shared in the past. Your career may depend upon it.
Read more about how to build a powerful digital profile that will put you front and center with hiring managers and prospective employers. Download your copy of
Build Your Online Brand
.