Top Benefits of Temporary Work
There are a number of great benefits for professionals to take on a short-term assignment.
JUL 27, 2022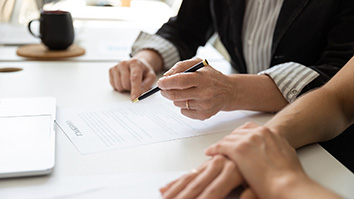 There are a number of great benefits for professionals to take on a short-term assignment. Temporary job opportunities are a great way to fill gaps in your resume, build your network of connections, explore new professional opportunities, and put money in your pocket! You might also find your next full-time position with this strategic move.
Here are some of the top benefits of taking on a temporary assignment:
1. TEMPORARY WORK ALLOWS YOU TO EXPERIENCE A NEW POSITION OR INDUSTRY.
Are you thinking of making a career change? A temporary assignment offers you the unique opportunity to test out a career move before fully investing yourself and your time into a permanent position. If you're committed to moving into a new industry or role, completing a temporary job assignment in a related field can help get your foot in the door. Companies look to hire candidates with similar industry experience because you can quickly make an impact once you join the team.
2. TEMPORARY WORK FILLS THE GAPS IN YOUR RESUME.
It often takes more than a month to find a permanent job opportunity. Temp work can help keep income coming in and fill in gaps on your resume as you search – providing additional experience in the process. It keeps you going, growing, and looking good to potential future employers. It's also an opportunity to build valuable references for future positions.
If you're early in your professional career, landing your dream role without a long CV can make it challenging to get your foot in the door. Taking on a temporary role not only provides networking and upskilling opportunities, but also helps build your professional portfolio and adds professional experiences to your resume.
3. TEMPORARY WORK HAS FLEXIBILITY AND BETTER WORK/LIFE BALANCE.
Temporary positions often allow you to manage your work-life balance better than permanent ones. In between assignments, you're able to spend time on your "side-hustle", whether that's your family, your Etsy business, Uber, or anything else. Depending on the type of position, there also may be limits on overtime so your work hours don't encroach your personal time, and you'd be eligible for overtime pay that you wouldn't otherwise have in a salaried position.
4. TEMPORARY WORK ALLOWS YOU TO EXPAND YOUR SKILLSET.
Not every temp job will be perfectly aligned with your skillset, and actually, that's what makes temp work such a great opportunity for you. Not only can you continue to sharpen some of your current skills, but you can also pick up skills that may be brand new to you and learn new platforms you wouldn't otherwise have exposure to. Research shows that every 4-5 years your skills become half as valuable. And for technology, it's even less. By learning new skills and keeping your existing expertise up-to-date, you become the top candidate for future roles and an expert industry best practices.
5. TEMPORARY WORK ALLOWS YOU TO BUILD YOUR NETWORK.
You never know who you will meet while working on a contract job, who they know, and where they can potentially make introductions. Working a contract position only helps to expand your professional network. An estimated 85% of jobs are filled through networking. In addition to meeting valuable contacts, you have an opportunity to gain recommendations on LinkedIn to help build your portfolio of skills.
6. TEMPORARY WORK COMES WITH A BUILT-IN SUPPORT SYSTEM.
Staffing companies, like our team at LHH, are here to help guide you through each assignment you take. Our recruiters are trained to work with you to ensure that you're working on the right assignment, with the right company, for the right compensation. You'll receive benefits and a steady income, in addition to professional career guidance from your recruiter, all at no expense to you.
If you're ready to explore short-term opportunities, we'd love to talk! Take a look at our open temp roles or reach out to discuss your goals with one of our talent recruiters.