This is why senior executives should lead the upskilling revolution?
These days, senior executives have to lead their people through a storm of transformations. But advocating for upskilling and lifelong employability isn't enough, they must lead by example and embody adaptability. Here's why.
APR 18, 2023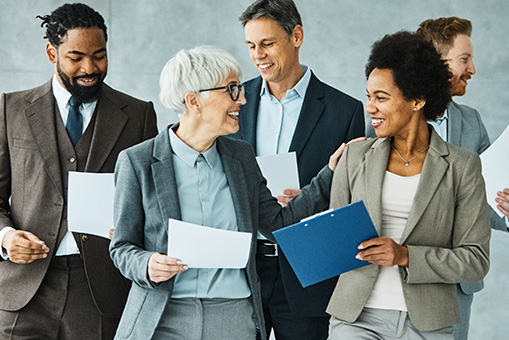 Imagine how hard it would be to explain today's world of work to someone who retired in the year 2000. People now have jobs that were barely conceivable a decade ago - we're looking at you, Instagram influencer. In another ten years, there will be even more weird and wonderful jobs of the future, which could include the likes of data detectives and XR immersion counselors.
Succeeding in this changing environment means adopting a culture of lifelong learning to ensure employees are continually equipped for the future of work - we call that lifelong employability.
When we talk about upskilling or reskilling, we usually give advice to people in entry or mid-level roles: but what about the people at the top? Should the leaders of the world of work be prioritizing their skills as much as their more junior colleagues? The short answer is: yes.
Learning is important for everyone, especially senior executives
The continual education of leaders is more than an organizational 'nice-to-have' - it's fundamental to the success of both companies and individuals. It is no surprise then that most non-managers feel companies spend the lion's share of upskilling resources on managers. In fact, 64% of managers say their company regularly assess their skills and set development plans.
But is this enough? A study by PwC shows that incapable leaders are some of the most significant barriers to progress, while just one in four leaders can confidently identify the skills they'll need in the future. And they are not alone. Our own research reveals 77% of workers feel they have a skills gap, but 23% of them have never had a career conversation.
Most top executives get to where they are by becoming experts in their field. They might feel that, at their level of seniority, there's no more training options available to them or that they have no need to continue learning. But sitting on the top rungs of an organization comes with its own unique set of demands. Sure, they might be subject matter experts, but can they effectively motivate entire departments or be a paradigm of resilience for others to follow?
Leading a business requires a whole suite of soft skills - empathy, transparency, emotional intelligence and resilience to name just a few. Indeed, strong social skills are one of the most important things organizations look for when hiring top positions. Companies need emotionally adept leaders to navigate them through uncertain times, and they know it.
Leading the charge into the future of work
Senior executives aren't just names on the 'About' section of a company website: they're figureheads in workplace communities. They need to lead the charge into the future of work by actively pursuing lifelong learning and encouraging others to do the same.
Some executives are already doing this - research by LinkedIn shows that half of senior executives are working closely with learning and development specialists in 2023, up from 43% in 2022.
But what about educating executives on how to move on from their current role? Just because a job is senior doesn't mean it's immutable – leaders also need to plan for the possibility of moving on to pastures new. Are senior leaders considering their next steps when they onboard to their current jobs? Do they feel comfortable handing over the reins to a successor? Being able to effectively manage top-level career changes and executive outplacement is a business imperative.
Senior executives benefit from training just as much as any other employee. Leaders who prioritize lifelong learning and make themselves adaptable will create equally flexible and successful companies that can pivot to the ever-changing demands of the world of work.
We get executive leaders ready for the future of work. Get in touch with one of our LHH career experts to find out more about our Executive Leadership Development & Coaching solutions and ICEO practice.